---
Charkole
E-commerce platform specializing in stylish formal attire for young boys.

Charkole, an American brand, offers year-round formal wear for boys, primarily catering to Jewish boys in the USA, Canada, and other locations. The pandemic prompted the necessity for a website to ensure the brand's continuity. Additionally, there was a crucial shift from a wholesale brand to a digital e-commerce brand that needed to be accomplished alongside the website development.

BROOKLYN
2020
Role
Design Strategist
UX/UI Designer
Marketing Manager
Timeline
2 Months
Deliverables
Print Design
Art Direction
Website Design
Content Design
Digital Marketing
---
Project Goals

E-COMMERCE BRAND
We opted for Shopify as our e-commerce platform to streamline website management, including inventory, updates, and store analytics. Given a tight timeframe, we sought a swift return on investment through digital channels. Concurrently, I took charge of social media marketing and content strategy alongside website development. Prior to launching the website, we conducted a refreshed photoshoot, initiating a proactive social media presence and set up our IG shop.
BRAND AFFINITY
Enhance brand affinity through social media marketing to cultivate a larger following and drive increased sales.
SCOPING THE WEBSITE
In initiating the website development, I outlined the pages and architecture to comprehend the scale of the site and determine the necessary content for each page.
WEBSITE CONTENT
Moving forward, the subsequent phase involved shaping the website content, including copy and tone. I started by crafting content for the about page, product descriptions, product titles, and homepage copy. Maintaining brevity, directness, and simplicity were key, given the small and concise nature of the collection. This language was carried on to the newsletters, print materials and socials.
Web Design
SHOPIFY
With shopping trends leaning heavily towards mobile, it was crucial for us to create a responsive website that caters to all devices, particularly mobile, to prevent abandoned carts.
INSTAGRAM SHOP
To increase brand awareness and cultivate a following, I created content highlighting the design and quality of the garments. The photoshoot featured young boys in an urban setting, conveying a playful yet sophisticated aesthetic. It was crucial to tag products on the IG shop to seamlessly direct traffic to the website for final checkout to meet sales and conversions goals. We harnessed the power of influencer marketing to spread the word faster.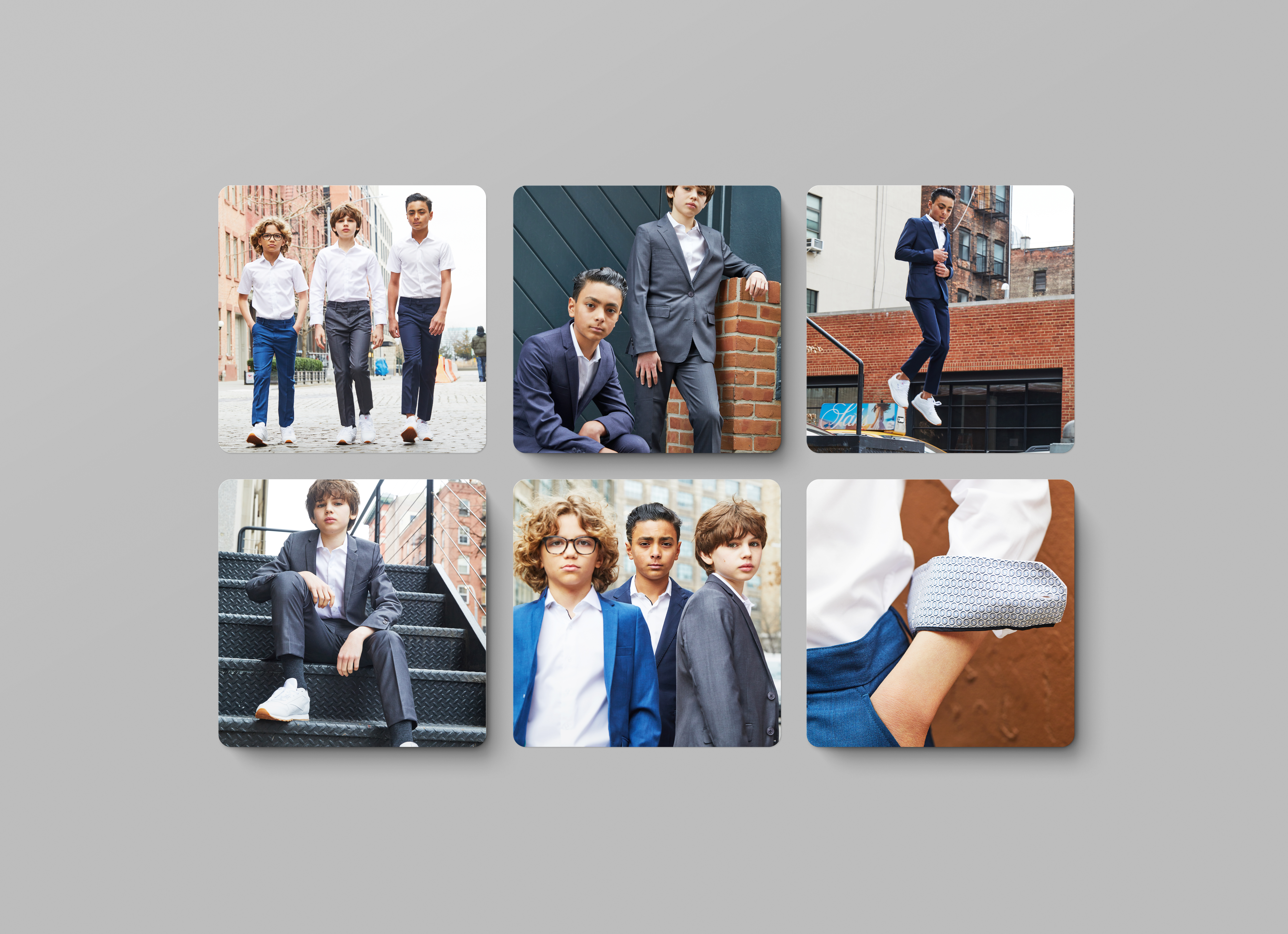 ACTIVATING WHOLESALE
To keep wholesale vendors informed, we rolled out a print campaign to effectively communicate expectations and reveal the summer collection.
USER TESTING
In order to boost engagement and average order value, user testing was deemed necessary. However, at that time, it wasn't feasible to implement the design changes from the feedback due to a tight deadline.

DESIGN LEADERSHIP
Taking charge of designing and managing the project from start to finish, I recognized the significance of delivering the Minimum Viable Product (MVP). I learned the importance of prioritizing business needs and goals as we launched the website prior to user testing and incorporating the feedback.